Home
Main content starts here, tab to start navigating
Vailhouse Oyster Bar & Grille
"Best seafood I've had in this city!" "Quality was on point!" Google Review
"Love this place, the food and the staff!" Facebook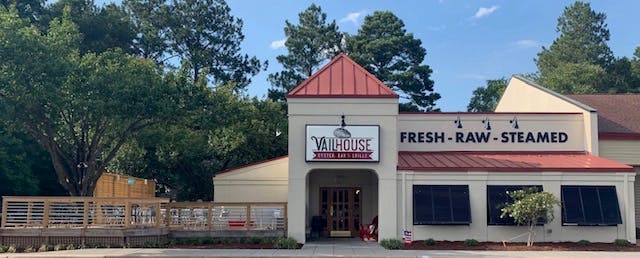 Our House Your Home
The Vail family has always loved entertaining others in their home where everyone is treated like family and fresh delicious food is always served. In 2018, Tom and Tammy Vail along with their children mapped out a plan to create a local seafood house and grille with elements inspired from their own home. You might find Tom running around trying to make sure everything is just right, Tammy behind the scenes baking fresh cakes, the boys cooking in the kitchen or shuckin' oysters and Brittany thinking of new ideas like the perfect name for the restaurant, Vailhouse. Family is everything! Join us! "Our house is your home for a delicious meal and a great time!"
Menu Options
Lunch - Dinner - Family To-Go
WE LOVE KIDS! - Check out the Vailhouse kids menu options available all day.
"I wish I could give this place more than 5 stars! The food is fantastic!" Google Review
Menu
Reserve A Table - Call Ahead - Walk-In
Call (919) 947-6138 for reservations. Wandering if there is a wait? Call ahead and we will get your name on the list. Our restaurant inside seating capacity is 55 and outside is 32. We have lots of seats with proper spacing! Plexiglass dividers have been installed between booths for customer safety. Walk-ins are always welcome! We can fit you in!
"The Best Pot in the 'Boro"
Cook at Home Low Country Boil Pot
1st Mate - Serves 2-3 - $44 - 1 lb Shrimp, 1/2 lb Andouille Sausage, Sweet Corn, Red Bliss Potatoes, Seasoning, Lemon, Cocktail Sauce, Butcher Paper
Captain - Serves 4-6 - $88 - 2 lb Shrimp, 1 lb Andouille Sausage, Sweet Corn, Red Bliss Potatoes, Seasoning, Lemon, Cocktail Sauce, Butcher Paper
Add - Crab Legs Cluster $10
Add - Mussels $8.50